We Are The Host (WATH) Course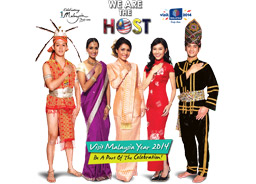 What is We Are The Host (WATH)?
One of the courses under Malaysia Welcomes The World (MWW).
It is an updated version of Mesra Malaysia course that was conducted since 2007 until 2012 to train all frontliners in tourism industry.
A replacement and more comprehensive course to train all tourism frontliners.
In line with Ministry of Tourism and Culture Malaysia (MOTAC) effort as the host for Visit Malaysia Year 2014.
What is the objective of We Are The Host Course?
To prepare frontliners to be more knowledgeable and hospitable as an excellent host of Visit Malaysia Year 2014.
To give clear direction and vision of Malaysia Tourism Industry from time to time which has been set up by National Key Economic Areas (NKEA) and Malaysia Tourism Transformation Plan (MTTP).
To understand the importance and the need to acquire first class customer service skills as well as to provide better services.
To understand the communication process and its barriers in order to communicate more effectively.
To give awareness and to share information about the latest and updated tourism products.
To instil, ownership and a proud spirit amongst the Malaysians to host Visit Malaysia Year 2014 and buy in the tourism industry.
Who should attend?
This one day course is open to any frontliners, tourism industry players and any individuals who are involved directly and indirectly in the tourism industry.
Only trained and appointed trainers by Ministry of Tourism and Culture is allowed to train the We Are The Host participants.
Each participant who completed the course will be receiving a We Are the Host Certificate and CD.
---
Last updated :